An essential tool for every multi-brand company. It will give you complete control over your storefronts – combinations of the Brand, Location, and Delivery Platform.
Schedule the grand opening of your new storefronts, quickly pause the services should any problems occur, control your stock levels, and much more… 
Explore the main features of the Brand Management Tool
Combine your MSAs, locations, brands, and Delivery Platforms to create unique storefronts and manage them all in one place. 
Activate, pause, resume, or deactivate your storefronts in real-time or using the scheduler feature
Use the bulk actions to upload new menus or opening hours to the storefront's Delivery platforms
Receive pausing requests from the KDS application should there be a temporary problem and the storefront needs to pause its operation
The change isn't always required to be applied immediately. Sometimes, you want the action to be executed later at a certain date and time.  
Our scheduler is here for this precise reason. You can schedule the following actions:
Activating, pausing, resuming, or deactivating one or more storefronts
Uploading new menus or opening hours to one or more Delivery platforms
Managing your Brands is one of the key features of the BMT, and there is a dedicated page for it.
The Brands section gives you control over the following:
Create and edit your Brands
View what storefronts operate the particular Brand
Examine which of your locations, MSAs, and Delivery Platforms is this Brand assigned to
View the history and keep on to of the changes for every Brand
Learn more about the application and its features
The main storefronts management page gives you a complete overview of your storefronts. In our language, a storefront combines a Brand, a Location, and a Delivery platform. You can have as many as you want. 
Quickly check which storefronts are currently live and operating, their opening hours and menus, locations or brands attached to them, and much more.
Filter the results to your needs, upload menu or opening hours in real-time or schedule it for later – the possibilities are endless!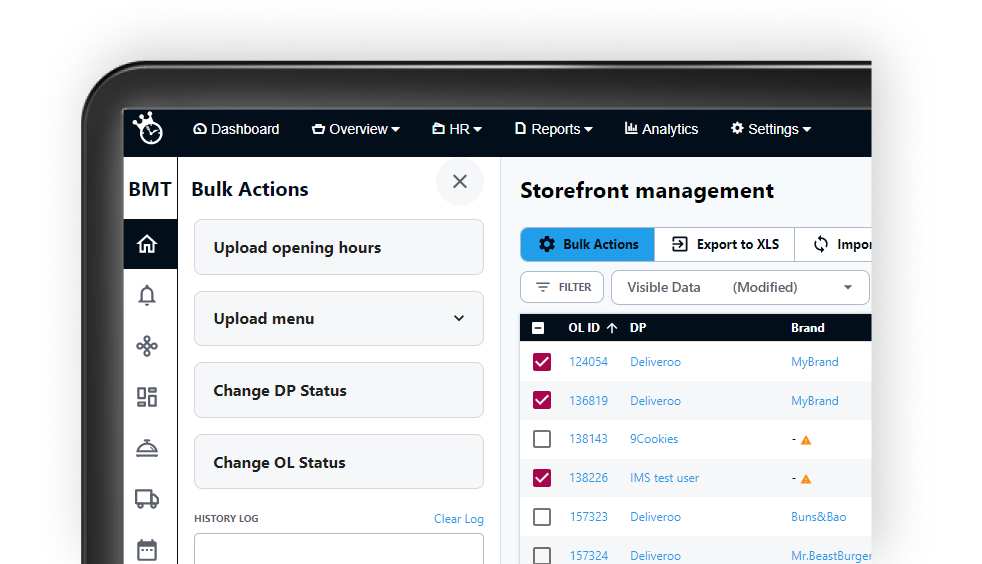 real-time remote management
Not always everything goes to plan. Some situations come out of the blue, and we must respond. The oven fails in the kitchen, the premises get flooded overnight, you name it… You need to react quickly to avoid painful explanations to unhappy customers why their orders need to be canceled.
Quickly pause the operations of one or more storefronts directly from BMT – the associated Delivery platform will automatically stop receiving orders until you re-activate.  
Planning your grand opening or applying new menus all at once in all of your storefronts can not be easier. 
With our advanced Scheduler planning tool, you can set the changes to be applied at your preferred times without needing further action. 
Prepare your new menus or opening hours, pick the time and date when it should be applied, and let the Scheduler do the rest!
Apart from that, the Quality assurance, Brands, Delivery Platforms, and MSAs sections give you a complete overview of your assets and their structures.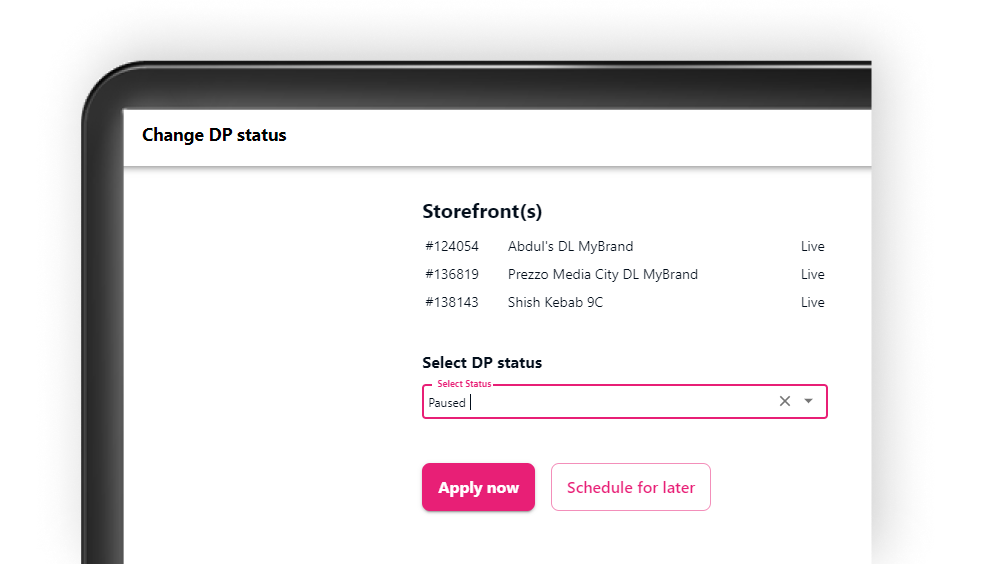 Explore the full range of our applications