One of the key OrderLord applications automatically enabled on your account with the DMS.
Your couriers receive deliveries automatically from DMS/POS, choose their favorite navigation app, chat with the customer, get the payments signed, send pre-defined notifications, and much more… And with its offline mode, no location is off limits anymore…
Our proven DMS – Driver App combo has been serving millions of happy customers worldwide.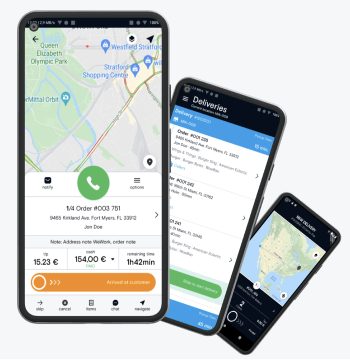 Explore the main features and discover why this is one of the most desired applications
Do your couriers differ in which navigation application they prefer to use? One of them likes Waze, while another swears by Citymapper?
Our Driver App can work with a wide variety of them, as long as they are installed on their mobile devices.
And remember, with our offline mode, no location is ever off limits anymore.
2.
REAL-TIME STATUS UPDATE
We understand that being able to monitor the location of your drivers as well as the status of each delivery is crucial to any efficient operation.
We, therefore, made keeping track of these aspects easy for you. Every time the driver changes the status of each order within the delivery, you'll be notified by the corresponding icon on the DMS. 
Your customers will not be left out – they can also receive the updates in the form of SMS/email notifications, subject to setup. 
Are you selling goods where the legislation requires you to check the customer is over a certain age?
Our app can help you with this and ensure that age-restricted products are not handed over to underage customers.
At the drop-off stage, a prompt will request an ID scan to verify the age of the customer. It's neat and keeps you and your business safe.
Learn more about the application and its features
Personalizing the app is easy, and we are confident that everyone can find their preferred style
Are your drivers non-English speakers? Choose one of the 15 languages available. If you can't find yours, let us know, and we'll add it to the list
Do your drivers prefer to have the light mode on during the day and the dark one at night? They can change it as and when they want.
Do they find the default notification sound distracting? They can change that too and choose one from a long list of predefined ones.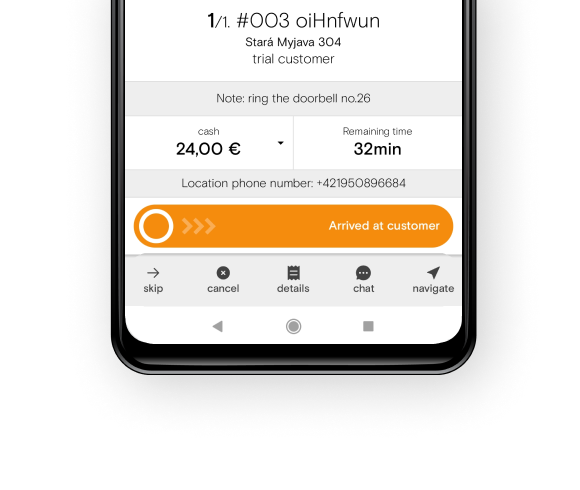 extensive delivery features
Once the driver accepts the delivery, they are offered a variety of features, many of which are customizable
They can see the order details as well as the remaining time they have to deliver it
They can skip an order if the customer is not at home and come back later
They can change the payment type, navigate options, map view, and more…
notifications and customer chat
Sometimes unexpected events such as traffic jams can complicate our plans to deliver goods on time and fresh. Keeping customers informed in such situations is a simple courtesy and a good customer service. With one click, the drivers can:
Call your client
Send a predefined notification, so there is no need to type
Initiate a live chat and explain the situation individually
.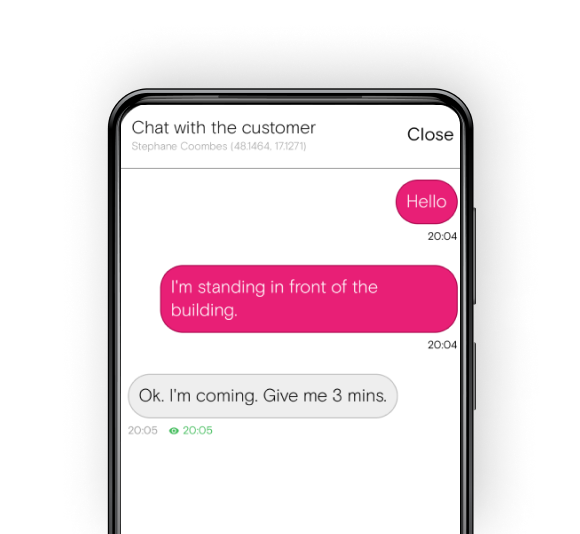 Explore the full range of our applications