Improve your sales by a significant margin – let your customers place orders at your Kiosk station or while seated comfortably at their tables.
Want one or more fixed ordering stations at your store? Not a problem. The kiosk can be assigned to a single table or accept orders for the whole restaurant – the choice is yours. It connects directly to the POS and sends orders to the kitchen for preparation. Multi-brand menu is also supported. 
Explore the main features and discover why this is one of the most desired applications
Another one of our user-friendly applications that's fully integrated with the rest of the OrderLord solution.
No need to adjust the structure of your menu or wonder how the payments will display in the system. The Kiosk is here to make your life easier.
Would you like your customers to be able to order from the comfort of their table? Not a problem.
Secure each tablet to your tables, assign them the desired table number, and all your customers will have to worry about is what to choose from your menu.
Are your customers going to order at the table but pay at the till? Or will they be prompted to pay by card at the table straight after ordering?
Have you not decided yet which workflow would work best for you? Not sure whether to use Stripe or Square payment providers? It doesn't matter, you can always amend as you wish.
Learn more about the application and its features
Are you serving several Brands within your premises and want all of their menus to be at the customer's fingertips?
Similar to the POS application, our Kiosk also supports multiple menus your customers may select from on the spot. 
Just prepare the menus, activate the multiple Brands feature, sit back and comfortably watch the orders coming in…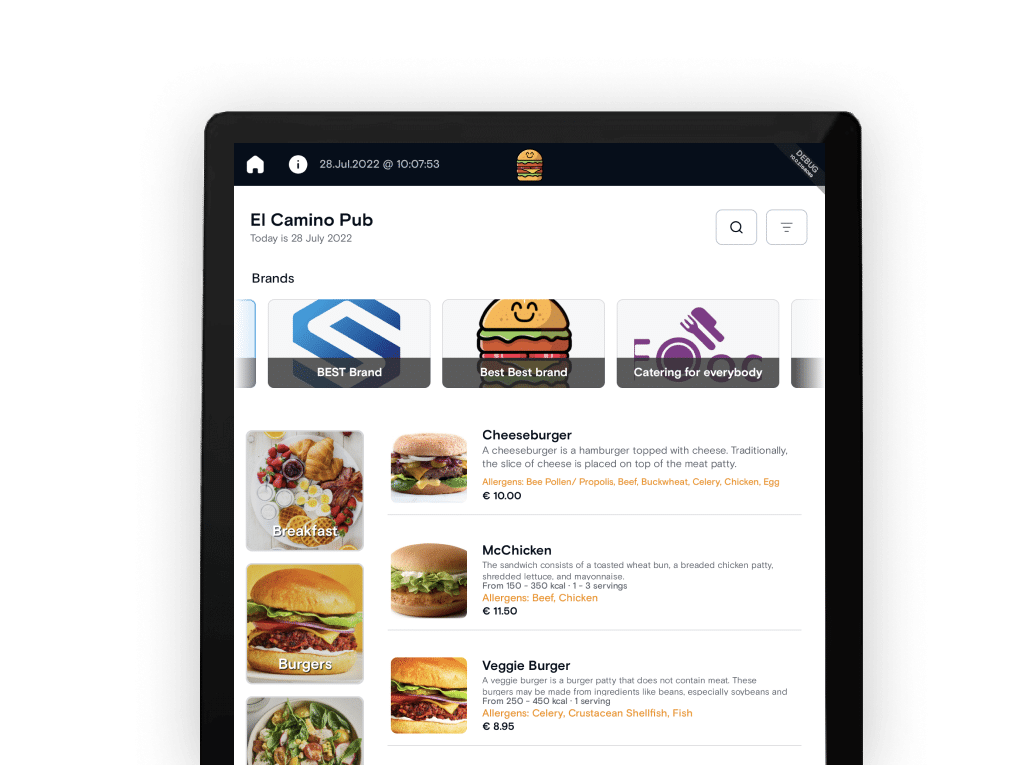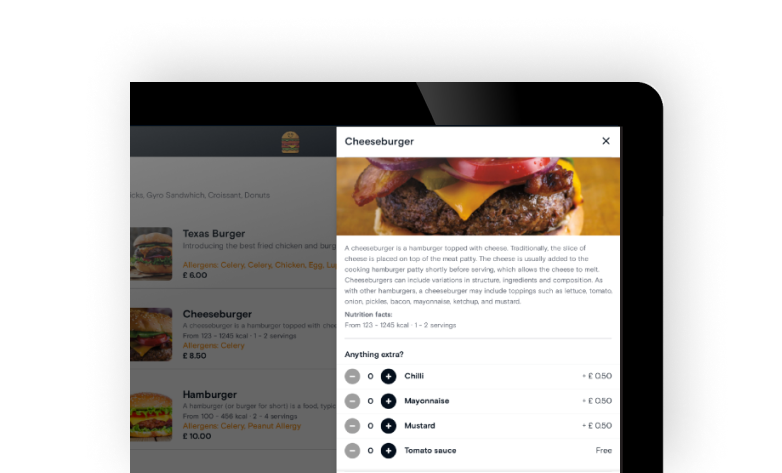 Allow your customers to build a meal to their liking. In their own time, they can:
Think of which toppings they would enjoy
Which allergens they'd like to be removed
Add a note to their order for specific requests
Amend or cancel items as required
The Kiosk tool will certainly allow you to streamline your operations and allow your staff to commit to other tasks.
ADVANCED RECEIPT CUSTOMIZATION
Do you have a clear idea of what the order receipt should look like? Like with our other apps, you can personalize almost everything about it. Here's the taste of just a few of the possible customization options:
Language of the printer and/or language of the printed text
Remove accent characters
Location and/or order data
VAT information
Conditional printing
and much more…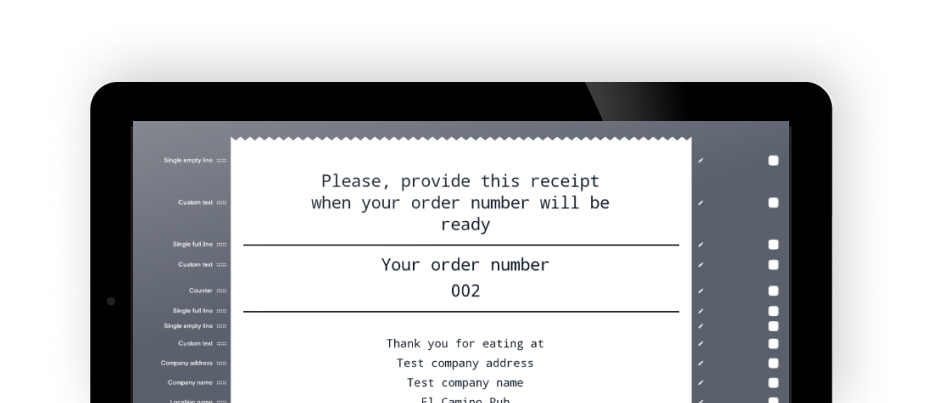 Explore the full range of our applications